Below is Phase2 Microwave's range of machined from solid Waveguide Bends,
in our standard 45 and 90 Degree bends. Our 30, 60, and 135 Degree bends are
available on request, along with bespoke bends that we can design and supply.
Our bends can be supplied in Aluminium or Brass, just specify on the order.
We can also supply with lengths of waveguide soldered or brazed in place with
your specified flanges, please see our Waveguide Bend Assembly page for more details.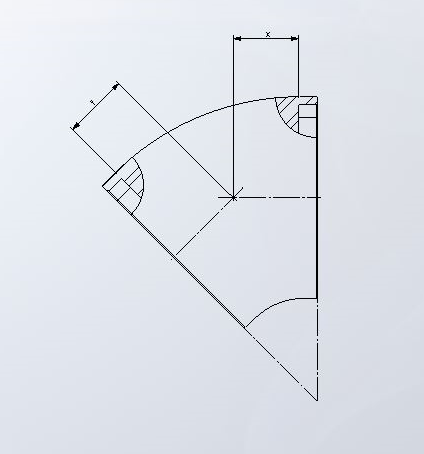 45 Degree Bends
Model
Waveguide
Size
Recommended
Frequency
Range (GHz)
Maximum
VSWR
Bend
Plane
Dimension
"X"
Dimension
"Y"
3D Model
Download
006558
WG10
2.60-3.95
1.05
E
006571
WG10
2.60-3.95
1.05
H
006559
WG11A
3.30-4.90
1.05
E
006572
WG11A
3.30-4.90
1.05
H
006560
WG12
3.95-5.85
1.05
E
006573
WG12
3.95-5.85
1.05
H
006561
WG13
4.90-7.05
1.05
E
006574
WG13
4.90-7.05
1.05
H
006562
WG14
5.85-8.20
1.05
E
006575
WG14
5.85-8.20
1.05
H
006563
WG15
7.05-10.00
1.05
E
006576
WG15
7.05-10.00
1.05
H
006564
WG16
8.20-12.40
1.05
E
006577
WG16
8.20-12.40
1.05
H
006565
WG17
10.00-15.00
1.05
E
006578
WG17
10.00-15.00
1.05
H
006566
WG18
12.40-18.00
1.05
E
0 06579
WG18
12.40-18.00
1.05
H
006567
WG19
15.00-22.00
1.05
E
006580
WG19
15.00-22.00
1.05
H
006568
WG20
18.00-26.50
1.05
E
006581
WG20
18.00-26.50
1.05
H
006569
WG21
22.00-33.00
1.05
E
006582
WG21
22.00-33.00
1.05
H
006570
WG22
26.50-40.00
1.05
E
006583
WG22
26.50-40.00
1.05
H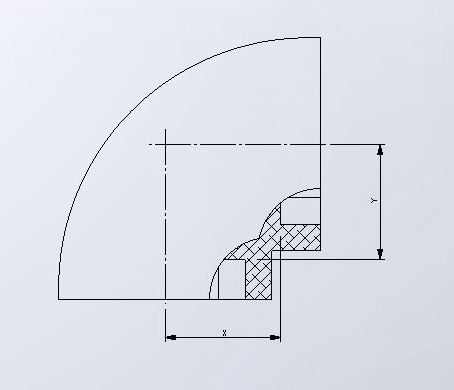 90 Degree Bends
Model
Waveguide
Size
Recommended
Frequency
Range (GHz)
Maximum
VSWR
Bend
Plane
Dimension
"X"
Dimension
"Y"
3D Model
Download
006532
WG10
2.60-3.95
1.05
E
006545
WG10
2.60-3.95
1.05
H
006533
WG11A
3.30-4.90
1.05
E
006546
WG11A
3.30-4.90
1.05
H
006534
WG12
3.95-5.85
1.05
E
006547
WG12
3.95-5.85
1.05
H
006535
WG13
4.90-7.05
1.05
E
006548
WG13
4.90-7.05
1.05
H
006536
WG14
5.85-8.20
1.05
E
006549
WG14
5.85-8.20
1.05
H
006537
WG15
7.05-10
1.05
E
006550
WG15
7.05-10
1.05
H
006538
WG16
8.20-12.40
1.05
E
006551
WG16
8.20-12.40
1.05
H
006539
WG17
10.00-15.00
1.05
E
006552
WG17
10.00-15.00
1.05
H
006540
WG18
12.40-18.00
1.05
E
006553
WG18
12.40-18.00
1.05
H
006541
WG19
15.00-22.00
1.05
E
006554
WG19
15.00-22.00
1.05
H
006542
WG20
18.00-26.50
1.05
E
006555
WG20
18.00-26.50
1.05
H
006543
WG21
22.00-33.00
1.05
E
006556
WG21
22.00-33.00
1.05
H
006544
WG22
26.50-40.00
1.05
E
006557
WG22
26.50-40.00
1.05
H